.
Democratic Underground is an Echo Chamber too
It is with a sad heart that I found out today that "Democratic Underground" is an echo chamber too.
No more "progressive" in some respects than redstate.org or blogsforbush.org.
I wrote the following on Democratic Underground
(link here)
:
The swift response: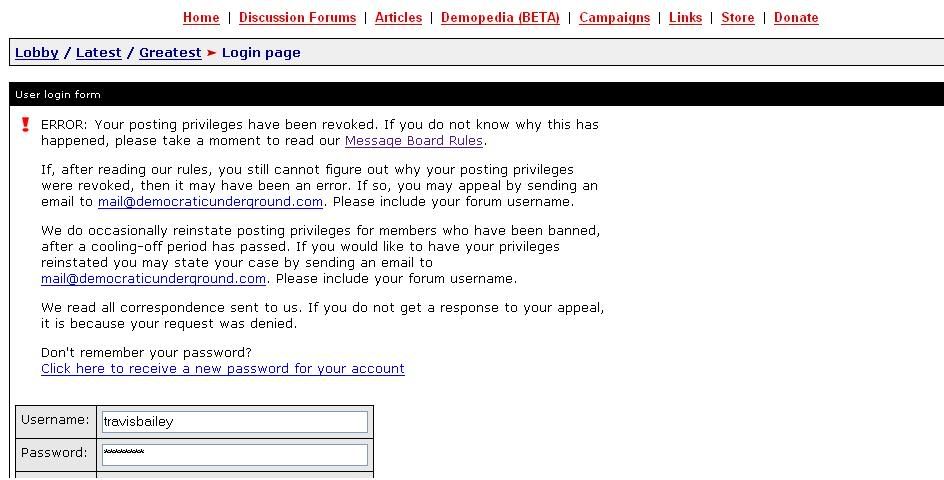 "Locked" means that no one else can post on this web blog.
It was amazing how quickly the moderators booted me out of Democratic Underground: within 15 minutes.
My response (which appears to have been deleted), to Misunderestimator writing this:

My response:
Yep, read the rules--What is "progressive" about DU squelching dissent?

Yep, I read the rules.

I was hoping that they were not enforced like the thought control Nazis over at redstate.org and blogsforbush.org.

Honestly, I was hoping for more from DU. Web blogs can have rules, like countries can have laws. But web blogs, like countries can selectively choose which laws/rules to enforce and which not too.

I may be incorrect, but you seem completely content to not question "the rules". But I am not like that.

What is "progressive" about DU squelching dissent?

Further what is "progressive" about never questioning the rules themselves?

You seem to answer my question, that yes, DU is an "echo chamber" like the repulsive redstate.org and blogsforbush.org, and worse, you seem completely happy about this. Aren't we, progressive liberals, who are more tolerant of others and more tolerant of dissent, supposed to be better than closed minded echo chamber conservatives?

I can predict that many supposed "progressives" are going to viciously attack me for even questioning DU.

Sigh...

As I wrote before:

"If I had a profile with a Bush icon in front of an American flag, and wrote that Hillary Clinton is a dishonest liberal, and listed all of the conservative hate groups talking points, would my messages be deleted?"

I think I am going to test my hypothesis, make up a new handle, and make a posting just like I explained above.
In regards to:
I hesitate even to give "Catholic Sensation" a response.
"Catholic Sensation" was
was proven wrong about Cindy Sheenan spectacularly by me
, and attempted simplistic Ad hominin attacks against me.
(which my response was deleted)
Frankly, if DU is filled with closed-minded witch hunters like "Catholic Sensation", no thank you, I don't want to talk to or associate with people like this.
"Catholic Sensation" says he is "right": but I personally have no idea what he is talking about.
Keep in mind..."Catholic Sensation" can post here at echo chamber, but I no longer can post on DU.

In fact, the moderators in a Stalin-like way, right now are erasing
every single message
I
ever posted
on DU.
Not only am I unable to post on DU,
erasing
every posting that I ever posted is disappearing.
It is rather frightening the Stalin-like words the moderator used:
"this person is no longer among us"
(Update:
DU undeleted my message
)
Point proven, unfortunately, DU is an echo chamber.
What is our country becoming when so called "progressives" are as closed minded to different views as conservatives?


Where is the REAL "public square for the open exchange of ideas and opinions" on the internet? (redstate.org Orwellian doublespeak is in quotes)


Where all views can be expressed?

Where on the internet is true freedom of speech supported?
Not on Democratic Underground unfortunately.